Rumpke Waste & Recycling manages 14 landfills, including one of the nation's largest, Rumpke Sanitary Landfill, in Colerain Township, Ohio, just outside Cincinnati. This landfill alone safely manages up to 12,500 tons of trash daily, earning the facility an Excellence in Landfill Management Award from the Solid Waste Association of North America.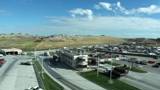 Rumpke does not long-haul waste from distant states. Instead, Rumpke's landfills are regional facilities serving customers within a 45-60 mile radius. Rumpke's landfills are strictly monitored by local health departments, the Ohio EPA and U.S. EPA. Combined, Rumpke safely disposes of millions of tons of trash annually at its landfills. This trash is generated by residential, commercial and industrial customers.
Compliant & Environmentally Friendly
Managing compliant and environmentally friendly municipal solid waste landfills is at the core of Rumpke's business. Rumpke's engineers and landfill operators strive to ensure clean, litter-free facilities that operate quietly in communities and generate a positive impact.
Rumpke's engineers also busy themselves with constant research, along with implementation of the very best "green" technology to put society's trash to good use.
Landfill Gas
Rumpke was among the first to try landfill gas recovery in 1986. Landfill gas recovery is capturing the gas generated by waste decomposition for conversion into natural gas or electric power. There are four landfill gas to energy systems operating at Rumpke landfills today producing enough energy for 50,000 homes…but Rumpke is just getting started. In the coming years, the company plans to open five more gas recovery systems.
Learn More About Landfills
Landfill Tours
We would love to take you for a Rumpke landfill tour! Learn more about our landfill tours by clicking below. 
Landfill Tours
Contact Us
We love talking trash, so if you have questions, we are eager to answer them! Click below to contact us and one of our experts get in touch with you shortly.
Contact Us