Together, We'll Build On Our Successes
Rumpke offers a wide variety of roles across our growing organization for individuals in different disciplines who can help support our people in the field, provide back-office expertise, and provide the new ideas that keep us growing. No matter what area you work in, you will be joining one of the most experienced and knowledgeable businesses in waste management and recycling. Everyone counts here — and your growth potential can be as big as your dreams.
What Sets Us Apart
We offer a wide variety of corporate roles at our headquarters in Cincinnati, at various locations, and even some remote positions. The sheer size and swift growth of the waste and recycling industry makes these jobs enticing. Each day is filled with variety, and you are part of the team laying the foundation for our future.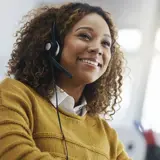 You get an opportunity to put a personal stamp on processes, technology, and strategies that shape our success.
Employees can transfer from one area to another and are encouraged to explore opportunities in other departments.
We offer career pathing programs and assistance in earning professional certifications in engineering, human resources, public relations, accounting and finance, information technology, and more.
Development programs are available for leadership roles, sales professionals, and route auditors.
Our open-door policy allows access to all leaders across the organization.
We support a collaborative approach where "reaching across the aisle" is highly encouraged.
Our corporate headquarters is conveniently located in northwest Cincinnati near I-275 and offers many amenities, including the latest technologies and building systems, 17 meeting spaces, three dining areas, walking trails, food trucks, and much more.
Rumpke is an Equal Opportunity Employer
Rumpke Waste and Recycling is committed to equality in all aspects of employment. It is Rumpke's policy to provide equal opportunities to all employees and potential employees without regard to race, color, religion, gender, sexual orientation, gender identity, national origin, age, protected veteran status, or disability status.
We're Hiring
As a rapidly growing, industry leading organization, Rumpke is always looking for talented individuals to join our team. Be sure to check out our current jobs openings to see if you may be a fit for a career at Rumpke.