We're Hiring!
Unlock the door to a BRIGHT FUTURE...
Click below and apply to become a Rumpke mechanic!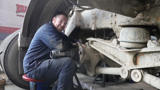 We Depend on You to Keep the Trucks Rolling
Incentivized pay structure | Substantial benefits package | Attendance bonuses | Overtime potential | 3 shift choices
Working in a maintenance or mechanic position at Rumpke, you can gain skills for an in-demand role and build a long-term career with us. Our innovative training will launch your career in diesel repair or help you reach the next level. You'll work on a variety of projects that test your skills, work with the latest technology in our pioneering maintenance shop, and receive great compensation with incentives. Whether you are experienced or entry-level, we'd love to welcome you to our team.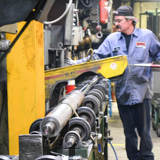 Is This Role for You?
Being a diesel technician is a high-demand career, and you'll work with the best here.
You'll learn all about the latest in truck maintenance, including electronic controls, Regent systems and compressed natural gas trucks.
You can grow here as you build your skills and take on new responsibilities — and we promote heavily from within.
You'll love the sense of accomplishment as we get our job done and get everyone back safely.
The variety of work (preventive, repair, rebuild) will keep you engaged and motivated.
We are family-owned, locally operated, and very employee-oriented.
Our business is recession-proof so there's always work to do.
Our great culture includes support and mentoring, a family feeling, and even perks like Food Fridays.
Maintenance Advancement Program
Rumpke will train you to begin your career as a diesel mechanic. Through our maintenance advancement program, you can begin working here with minimal experience in the field and receive hands-on, on-the-job training. Individuals in this program have a career path mapped out for them and receive milestones detailing skills, duties, promotions, and wage enhancements.
Possess a valid driver's license
Pass a Department of Transportation (DOT) physical examination
Ability to understand English
Be drug-free and agree to drug testing
Be at least 19 years of age
Pass a required entrance examination
We're Hiring!
As a rapidly growing, industry leading organization, Rumpke is always looking for talented individuals to join our team. Be sure to check out our current jobs openings to see if you may be a fit for a career at Rumpke.