Commercial Dumpsters & Container Options
Rumpke offers a wide-selection of commercial dumpsters and containers for your waste and recycling needs. At Rumpke, we know businesses come in many shapes and sizes and that our selection of dumpsters and containers need to reflect that.
Disposing of waste properly is a major responsibility in order to safeguard both the community and the environment. Our containers are built with heavy-duty materials to last through the years. Sign up for Rumpke with confidence knowing that we have nearly a century of expertise in the industry. 
We have the expertise necessary to help you dispose of your waste easily and appropriately. With our commercial dumpster rentals and other options, we are ready and able to meet all your requirements for waste removal and recycling.
Size (yds): 10, 12, 15, 20, 30, 40, 42
Style: Square, square hook, sludge, tub, receiver
Color: Green, brown
Material: Steel
Size (yds): 2, 4, 6, 8, 10
Style: Flat, slant, dock
Color: Green, brown
Material: Plastic, steel
Size (yds): 2, 3, 4, 6, 8
Style: Standard, high back
Color: Green, brown
Material: Plastic, steel
Trash & Recycling Carts
For small businesses, Rumpke offers 65- and 95-gallon trash carts to handle waste or recycling collection.
These carts can be the ideal solution for offices that generate a limited amount of refuse or for small retailers that only throw away a few shipping containers or boxes at a time. Our flexibility makes us the ideal commercial dumpster service for businesses of virtually every size.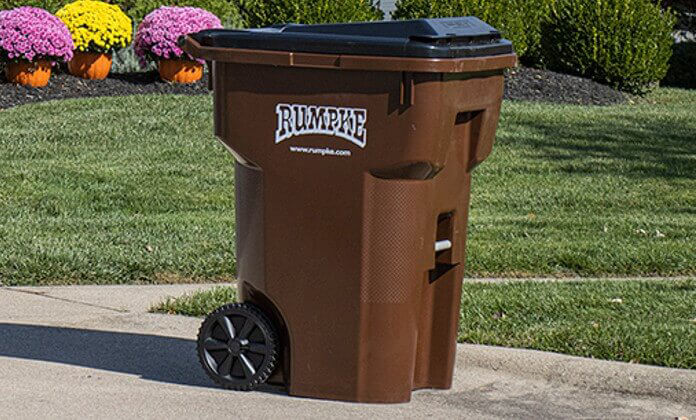 Rolling carts are great options for businesses that generate relatively low volumes of recyclable materials. They're ideal for small retailers and offices that throw away only a few papers, bottles, cans, and shipping containers. 
65 & 95-Gallon
Our 65 and 95-gallon containers are designed to reduce the number of trips you make to the curb. They are made of sturdy material to ensure they can withstand nature's elements. The heavy-duty wheels make it easy to move around, while a lid ensures all materials are securely stored until they're ready to be emptied.
If you need recycling containers that provide extra trash space without taking up too much space, large recycling bins are a great choice. They're suitable for helping you manage recyclable waste in an apartment building, restaurant, or any other commercial place that generates a fair amount of recycling requiring frequent collection. Our options for large recycling bins include:
6-Yard
This recycling container can hold up to 6 cubic yards of recyclable trash. It has lock bars to keep the container secure when it's not in use. It's made of durable materials to ensure you can use it for a long time without worrying about damage from the weather or regular wear and tear.
8-Yard
The container is ideal for manufacturing plants, construction firms, fulfillment centers, and other premises needing larger capacity. These square-shaped bins have a lid and their 8-yard capacity ensures they can hold huge volumes of waste before emptying.
At Rumpke, we understand that some businesses need customized solutions to meet their specific recycling needs. We can design and build custom recycling containers for your business to make material management seamless. Our team of experts will work closely with you to determine the best size and configuration for optimal recycling and material storage.
Dependable Pickup Schedules
Our reliable service is why millions of customers and 60,000 businesses use Rumpke to manage their waste stream.
Wide Variety of Services
We have a wide range of capabilities and equipment to handle your needs, no matter how extensive or minimal they may be.
Customized Service and Competitive Pricing
After nearly 100 years in business, Rumpke knows how to serve your waste and recycling needs at competitive prices.
Environmentally Responsible
Rumpke's network of award-winning landfills and recycling facilities are designed to protect the environment and public health.
Advanced Technology and Innovative Strategies
Since the beginning, Rumpke has grown by looking for new and innovative ways to deal with our region's waste stream.
Professional, Dedicated Teams
Rumpke's team of nearly 4,000 team members are dedicated to delivering exceptional service while providing essential and reliable services to our customers.
Whether you're looking for a simple trash cart or a large-scale commercial roll off dumpster, there's no better place to turn than Rumpke. No other company offers more value-added services than we do, making us your complete waste management solution.
With more than 90 years of experience meeting the needs of businesses of all sizes, we have the knowledge and expertise necessary to deliver impeccable service for your business. We're dedicated to keeping our community green and clean with the most innovative and responsible practices in the industry.
Ready to Get Started?
Contact us today to set your business up with friendly, reliable waste & recycling service from an industry leader.